New Construction Painting Boise, ID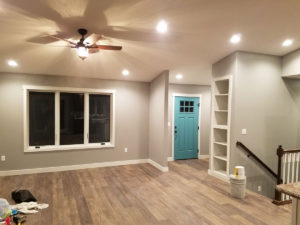 Clean Line Painting in Boise, Idaho
Offers New Construction Painting with over 20 years of experience. When you choose Clean Line Painting, you are choosing professionals with extensive knowledge and capabilities to perform any New Construction Painting project you need completed.
New construction and remodeling jobs pose different challenges than repaints in regards to interior painting. While the prep work can be less demanding than other painting projects, there are many factors that must be acknowledged before such an endeavor should be pursued.
A Clean Line from Consultation to Completion of Every New Construction Painting Project.
Assuming that the sheet-rock hanger has performed their job accurately and responsibly, all surfaces must be thoroughly evaluated by a professional so to accurately determine which base paint should be used. It is also very important to determine which primer and paint should be used and how much. The process for a new coat of paint begins with a free on-site estimate followed by very thorough, concise and well-communicated steps from evaluation of project, site cleaning and preparation, determining products and paints to be used, paint procedure, completion and clean-up. Clean Line Painting can thoroughly and efficiently determine and evaluate the best methods and products for your New Construction project and provide an estimate and plan to best fit your needs and situation.
When you hire Clean Line Painting, you can be rest assured that we uphold the following guarantee:
Punctuality
Clint and Heather Sparks are very passionate and dedicated to their work and take great pride in establishing trust and long-term relationships with each customer. You can rely on them to be on time with clean appearance, and with professional and respectful demeanor.
Within Budget
Clint and Heather will listen to your goals and concerns so to develop a plan to best fit your New Construction Painting objectives within a budget that is reasonable.
Honesty and Transparency
No sales tactics, upselling or unnecessary suggestions. Clint and Heather will provide details of each process and function so that you will know exactly what and why they are performing each step of the New Construction Painting process.
Call Clean Line Painting today to schedule a Free Consultation and Estimate and get started on your New Construction Painting project today!