Exterior Painting Boise, ID
Clean Line Painting was established by Clint and Heather Sparks. With over 20+ years of Exterior Painting experience, specializing in exterior painting of High End, New and Historic Homes, Condominiums and Apartments of Boise, Meridian, Nampa and surrounding areas.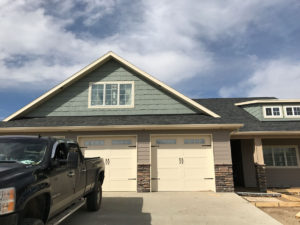 When you live in Boise, Idaho and surrounding areas, your home or building is susceptible to a wide array of weather conditions- all of which wreak havoc on the exterior paint over time. High and low temperatures, snow, wind, rain, sleet, hail and sun will all inevitably cause the paint to chip, fade or peel over time, resulting in the need for another professional paint job. While no company can promise that another paint job won't be required down the road, we can certainly assure you that when you hire Clean Line Painting your exterior painting will last longer and look much better than most. Clean Line Painting is highly skilled in the realm of planning, prep work, strategy and application,  so that the completed project isn't just aesthetically appealing, but serves as a barrier of protection against the elements resulting in longer lasting curb appeal, protection and value.
Knowledge of Architecture and Historical Style are applied to all Exterior Painting Projects.
Along with skill and expertise in preserving the look and protection of your home, Clean Line Painting offers consultation and expertise in regards to which hues compliment the era and style of your home- whether it be the minimalistic, clean lines of mid-century modern homes to the dramatic, deeper tones of Victorian homes. Homes in the Treasure Valley are modeled after a wide array of styles and eras, requiring professionals with historical architectural knowledge, impeccable attention to detail to the individual characteristics of each home, and unmatched precision when performing an Exterior Paint project.
Clean Line Painting offers the highest quality customer service and performance for a very reasonable estimate.
When you call Clean Line Painting, you will be professionally and cordially guided through a step-by-step process beginning with an on-site estimate and free consultation. Clint and Heather will attentively listen to your exterior painting needs, provide recommendations that may improve the protection and value of your home or building, then work with you to determine a course of action that will meet your expectations within a very reasonable budget.
You can count on Clean Line Painting to arrive on time with clean appearance, a warm demeanor, and utmost respect for you, your family and your home. We do our very best to accommodate your busy family schedule. We are also meticulous about organization of workspace and ensuring that the only remnants of our work are the ones you hired us for.
Call us Today to Schedule a Consultation.
Or
*For all Exterior Painting Projects, Clean Line uses Sherwin Williams Paint. Sherwin Williams not only offers high quality and long-term effectiveness, but also a color palette designed for varying architectural styles throughout history to maintain the integrity of your home model and era in which it was designed.