Professional Cabinet Resurfacing Services Boise, ID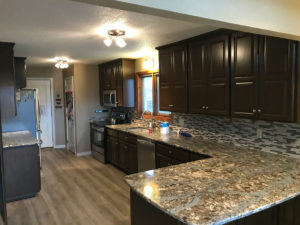 At Clean Line Painting in Boise, ID, Clint and Heather Sparks have over 20 years of experience in Commercial and Residential restoration work. One of their primary specialties is Cabinet Resurfacing.
Over 20 Years Experience in Cabinet Resurfacing.
Here at Clean Line Painting, our mission is to make your old cabinets look brand new. When you're able to save thousands of dollars by resurfacing your cabinet as opposed to completely refacing or replacing your cabinets, it makes much more sense to refinish to any color, laminate or wood veneer replacement surface you prefer instead of tearing out and replacing- especially when each cabinet averages to around 5 to 8,000.
Professional Cabinet Resurfacing Services in the Treasure Valley.
When you are looking to resurface your cabinets, there are many factors to keep in mind. The preparation work involved in this project is one of the most, if not the most, important step of the entire process. If you don't take certain measures and precautions it is very possibly that your cabinet resurfacing project will fail and tarnish within months, if not weeks. This is why it is strongly advised that you enlist the service of long-term professionals. When it comes to kitchen cabinets, they must be thoroughly cleaned to ensure that the paint and primer adhere firmly and properly.  There are many instances in which people pursue shortcuts or hire standard house painters without specific knowledge of how the preparation work must be performed.
Free On-Site Consultation and Estimate. We accommodate your busy schedule!
At Clean Line Painting, we take great pride in our work. We evaluate the project thoroughly, and communicate with each client to determine a budget, plan and schedule that adhere to their unique needs and busy schedule.
Please feel free to give us a call at 1-800-Pro-Painter, or at our local number 208-95-PAINT. We are happy to assist you with all of your Cabinet Resurfacing needs.
Gallery